I love working in a wide range of media, and have a strong interest in interior and product design. Drawing in particular, has been at the core of my practice as a visual artist for many years, and it got me thinking about different ways to bring my art into your home, onto your walls, upholstery, through lighting, and furnishings. So I started to look at the relationship between art and design, and to find creative ways to bring them together.
All of my pattern designs start life with the mark of a pencil, a line from an ink pen, or a stroke of a paintbrush, and take inspiration from the natural world. I love the fact that it takes a lot time to create the artwork, that I'm a stickler for quality, accuracy and craftsmanship. I love the fact that when you own one of my products, you have a unique, hand-crafted design that you can't get on the high street. It's about combining natural beauty and cutting edge style, being classic, elegant and timeless.
I have a small collection of three wallpaper designs, which are made in the UK, and my fabrics are printed locally in the north of England. At the moment, as the cushions and lampshades are hand-made, and are only available in small quantities.
Heart Home Magazine selected me as one of their 'New Designers' to show my designs on their stand at Home London in January 2014 at Earl's Court. In April 2014 I was lucky enough to be invited by UK Trade & Industry to attend a Lifestyle & Heritage reception at the British Ambassadors Residence in central Paris. Sixteen creative enterprises from Yorkshire attended the reception and we met a host of buyers from Parisian stores. I spent an intense, but exciting 5 days at a brand new interiors show in Provence, France the flowing summer. Discovering Designers was organised by TrendlineEurope, and hosted in Aix-en-Provence to co-incide with the huge Cote-Sud interiors show.
It's been an eventful few years - initially completing an MA in Fine Art, and more recently doing a postgraduate course in Surface Pattern and Textiles, and going into production with my first wallpaper designs in the summer 2013, closely followed by fabrics, handmade lampshades and luxurious silk cushions. I mainly work on small projects with private clients so please use the contact form if you are interested in my designs.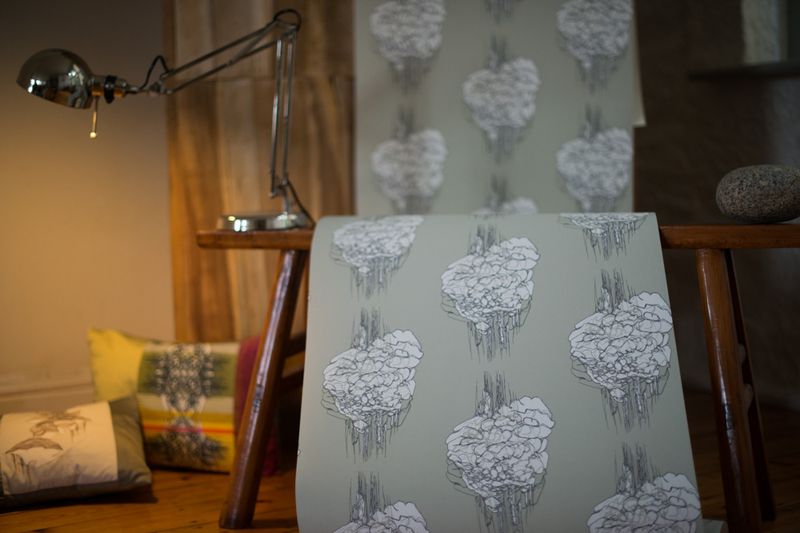 Wallpaper
I have three wallpaper designs available, all inspired by woodland flora and fauna.
Lampshades
My range of lampshades are carefully handmade in poplin fabric, and you can choose from a range of my own fabrics which are Flight, Heron, In the Wild, Coriolacae and Champignon. They are available in 30cmx20cm or 20cmx20cm drum shades. Bespoke shades (different shapes, sizes and lining colours) can be ordered by emailing clairemurraydesigns@gmail.com
Prices are £70 plus postage and packing. Please state if you want pendant (ceiling) lamps, or table lampshade.
Fabrics
I love playing with pattern, and sometimes get asked to turn my designs into a special item such as a luxurious silk cushion or set of Russian blinds. All my cushions are 100% raw silk, and are handmade by me. Each cushion is designed around a main motif of my own hand drawn design, and juxtaposed with a carefully selected range of silk fabrics that combine beautiful texture, colour and finish.
Cushions have high quality plump duck feather inserts, are 52cmx35cm, and cost £80 plus postage and packing.
All cushions are made to order, so please allow up to 28 days for production and delivery. Please note that each cushion is unique and colours and finish may vary a little from what you see on screen. Please email through the contact form to enquire.